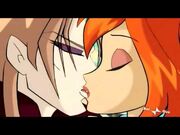 Bloom and ValtorEdit
As you may already know Bloom and Valtor are a BIIIIIIIG fan couple.Most likley because Valtor is a wizard/male fairy of the dark Dragon Flame and Bloom of the Dragon Flame. Also just like Blogron, they are almost complete oppisites. Even though Valtor's "Mothers" (The Ancestor Witches) destroyed Bloom's home world, this fan couple lives on!
Why join?Edit
They both have the Dragon Flame
They are total opposites
Villains need love too!
Cause its popular
Ad blocker interference detected!
Wikia is a free-to-use site that makes money from advertising. We have a modified experience for viewers using ad blockers

Wikia is not accessible if you've made further modifications. Remove the custom ad blocker rule(s) and the page will load as expected.