EVERYBODY IT IS OFFICIAL.
HETALIA DAY IS ON OCTOBER 26, 2013.
You may now commence fangirling.
--FANGIRL SQUEAL--
OMG, that means I'll have to buy a wig, I probably don't have enough for the costume, and it's reeeally hard to find. (And I can get my flag from Amazon :D)
I'm bringing my camera to document the awesomeness!!!
(Now a note to the members of the NCG)
So, I know declare that the Nyotalia Cosplay Group IS going or else I will go after you and sic Russia on you.
Anyway, If you don't know much about Hetalia Day; it's a day where all Hetalia fans go to a local area that has been arranged with the company and hang out for the whole day. Full cosplay is not required. And this is a WORLDWIDE event.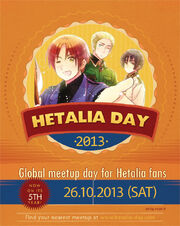 I AM SO EXCITED!!
And here's the official poster: 
Ad blocker interference detected!
Wikia is a free-to-use site that makes money from advertising. We have a modified experience for viewers using ad blockers

Wikia is not accessible if you've made further modifications. Remove the custom ad blocker rule(s) and the page will load as expected.