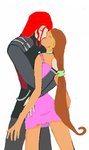 Team Flogron
Edit
This is a fan made couple consisting of Flora and Ogron. No defnite inspiration found, but most think Flora and Anagan would make a better wizard and fairy couple considering that Anagan already has a crush on Flora and often flirts with her. Another thing about Flogron is that most of Flogron fans think of this couple as a "a good-girl meets bad-boy" type of fanon couple.
Ad blocker interference detected!
Wikia is a free-to-use site that makes money from advertising. We have a modified experience for viewers using ad blockers

Wikia is not accessible if you've made further modifications. Remove the custom ad blocker rule(s) and the page will load as expected.