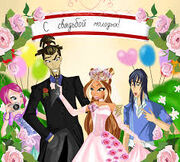 So according to many Winx fans Anagan has a cute little crush on Flora! We think they are ALSO a cute couple!!! So here's to Flanagan!!!
Reasons Why They're A Cute Couple
Wizards need love too!
They just seem like a cute couple 
He's always hitting on her!
Because of the video below.
Because we said so!!!!!      
Media