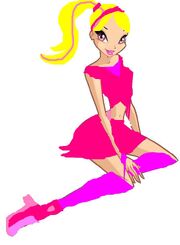 Roman's Up-Bringing
Roman is a new character to Aphrodite's Curse and one of the most unique fairies to exist. Her mother is Aphrodite, the Greek Goddess of Love, and her dad was a male fairy from Domino (They are real!) who was killed in the attack of the Ancestor Witches on Domino. However, only she only gained her mothers powers. She was born a half-blood fairy, a hybrid of God/Goddess and a Fairy. So far she's only gotten Charmix, but she will get Enchantix. It has recently released that Roman will get Enchantix in part four.
More about her
Birthdate: Febuary 14, 1995
She has had over 20 people confess their love and adorance to her just in the month of December of 2011. She is sweet, perky and powerful and charms who ever she sees. However, even though she's charming and smart she is not the beauty to be messed with because she also controls emotions and can destroy your love life at the snap of a finger and the sound of a spell. Also, ironicly for a short amount of time she ran a match-making service.
Features, Looks
Blonde with one pink steak
LOVES pink and Magenta 
she hearts Hearts
Fair skin
Pink eye color
Roman's Personality 
Sassy yet sweet
Independent
Social Butterfly
Short-Tempered 
She's Smart
She's a Heartbraker
Loves Fashion
She approves of Blogron
She has some awesome magic
Kind-hearted
Spells
Emotional Turmoil
Heartbreak
Awakening Kiss
Hope's Light
Faith In Heart
Breaking Joy
Healing Heart
Roman's Inspiration
When A & K came up with their episode idea they realized: how would Ogron and Bloom ever confess their love for each other? Well, thats when Roman steps in. She finds Bloom asleep from a long night of research and senses Bloom's distress as she sleeps. Bloom explains to Roman everything about what happened yet denies her love for Ogron. Roman finds Ogron and Bloom and dose her spell to find out if they truely love each other which they do.
Gallery