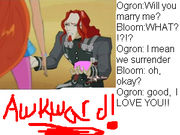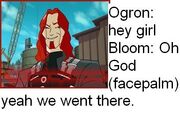 Okay this is all about Bloom and Ogron's history. Trust us there is A LOT of history to cover so here it is!
So Ogron and Bloom fight....a lot. So, I did not feel like typing all them so here's the summary. The first was when they had Enchantix sadly the Winx lost :.(  Anyway, then the Winx got Believix and saved Roxy. Then, there were all the ones when the Wizards were progressivley getting weaker. After that, the Wizards "[up]". Yeah, then there was the huge battle at Tir Nan Og. Lastly, there was the Duel in the Omega Dimension. BOOM! the Wizards were "defeated"!
Compassion?
Edit
In some of the episodes, (Refer to Aprodite's Curse and/or this.) You may notice Ogron can be "compassonate" or "kind" to Bloom and The Winx. Especially after the Wizards "surrender". Eventulley, the Wizards go to the Fairy of Justice but, on the way there, Ogron has a near death experince which Bloom saves him from!!! WHAT?!? 0_0 So are you BLOGRON?!?!? 
Ad blocker interference detected!
Wikia is a free-to-use site that makes money from advertising. We have a modified experience for viewers using ad blockers

Wikia is not accessible if you've made further modifications. Remove the custom ad blocker rule(s) and the page will load as expected.