Bloom is the one of the lead characters in the Italian TV show Winx Club.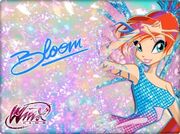 She is the 2nd born daughter of 
King Oritel and Queen Marion and the is the princess of Domino. She is also the keeper of the Dragon Flame.
Apperence
Edit
Bloom has fair skin, red hair and light aquamarine/blue eyes. She is almost always wearing pink and blue.
Bloom is the Princess of Domino and apparent leader of the Winx Club.  Her power is the Dragon Flame and she is currently a Sirenix Fairy. Her known relatives are her father, King Oritel, her mother, Queen Marion, and her sister, Daphne.
Teams Bloom Is Involved In
Edit
Ad blocker interference detected!
Wikia is a free-to-use site that makes money from advertising. We have a modified experience for viewers using ad blockers

Wikia is not accessible if you've made further modifications. Remove the custom ad blocker rule(s) and the page will load as expected.